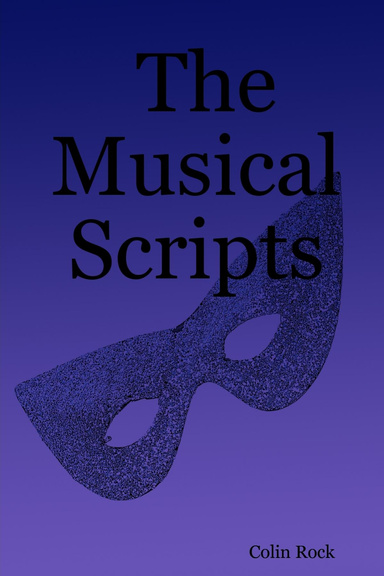 Most interesting: my simple plan was to link Lulu published books with this site without having to use Shopify…well, without having to pay. Should be straightforward, but how do I find the appropriate URL? It's a mystery or, more likely, a conspiracy.
Anyway, these two musical scripts are really fun. 'The Hairy Thing' is a family joke; I contend it is one of the best things I've written, but mocking laughter ensues. Ah well. I look out of my garret window and see the rain coming from the mountains. Not a metaphor: the window is open and I'm getting wet.
With a bit of effort the below link somehow finds a page on Lulu.com.
https://www.lulu.com/en/us/shop/colin-rock/the-musical-scripts/ebook/product-1m48629j.html?page=1&pageSize=4
Insert: It's mid October 2021 now, and we are in lockdown. What better time to republish this on a more accessible platform and work out that copyright business. Oh no, Rod Murdoch has just died. One of the very best.
I've just realized I haven't said much about the scripts. For copyright reasons I haven't linked the songs but purchasers can write to beauxartsltd@gmail.com and a gift link…no money involved copyright guy…hang on, another parenthesis…I'll have to post the songs first. Blurb, there has to be a blurb in the book and I shall now find it.
introduction to The Hairy Thing
The Hairy Thing played for a season at the New Independent Theatre in Queen St, Auckland, New Zealand, about 1985. Dennis Ralph was the director and I should have a list of the cast somewhere but hey, that was a long time ago. Steve Ross was the lead musician.
Hairy Thing has been brutally tinkered with: earliest versions long lost. It still doesn't make much sense, but I do vaguely remember basing the 3 dissidents on Marx, Freud and Nietzsche. Essentially this version is a hodge podge, hotch potch, and hedgehog of whatever I could find. Great memories though, lots of fun staging this.
Ah yes, the origins: I remember Bill Millett suggesting we do a musical based on 'Alice in Wonderland'. I started, he didn't. I suppose that's where Lory came from. I'd also been working on 'The Philosophers Ball', a rambly sort of intellectual thing well beyond my talents. The great Rod Murdoch composed most of the music (also 'Shaking Willy') , working with Link Mael at times. I contributed a morsel. Rod is a subtle fellow and would not have enjoyed the stage play much. He never did see it, in fact, but remained hidden in the Waikato somewhere. That was perhaps his real subtlety. My subtlety was naming Rodent after him.
Chappell music (now Warner/Chappell) gave us a publishing contract for this but, alas, were frightened off from promoting it by the weirdness of the story and the rather dodgy master tape we sent them. Still, it was nice to get a little money and some minute transitory fame.
Abdullah was portrayed as a turtle, Myrtle a duck. Others were vague sort of creatures. Whatever took the actors fancy really. In my more fanciful moments, I perceived the play as a sort of New Zealand versus the world thingy. Lory comes from the land of sheep etc. Yes, well, I wish I knew what it all meant. Is there life before death? Have I filled up this page yet?
Shaking Willy
The plebian folio version of Shakespeare's 'Macbeth'
Introduction to Shaking Willy
The story of a slightly dysfunctional family living in a time of turmoil, unrest and civil war. Willy, his two sisters, and his mother and father need all their wits about them just to survive. It is usually the rich and powerful who make history, achieve triumphs, and reap the rewards, while the little guy gets to suffer the consequences of their great drama.
Shakespeare probably wanted to address this great injustice in a 'plebian folio', and no doubt he would have also encouraged his characters to sing a few pensive or even jolly songs.
The family play every non-noble role. Ten actors are required. All the boring bits have been removed to encourage school productions/audiences, but only the family stray from the original text.